occupational health and safety - ISO 45001 - CERTIFICATION OF WORKING ENVIRONMENT MANAGEMENT SYSTEMS
ISO 45001 is an international standard for certification in the field of work environment. With a certified management system for the work environment you will receive support in creating a safe and efficient workplace where everyone can feel good and be productive. As an accredited certification body, we help you review and develop your work environment plan and your management system to then issue the certificate. With a management system for work environment, you can control and further develop your work environment work effectively. It is strategically important today when working environment issues are high on the agenda.
The purpose of ISO 45001 is to prevent workplace accidents and other work-related health problems, promote a safe and healthy work environment and create conditions for a good collaboration between employers and employees.

BENEFITS WITH AN ISO 45001 CERTIFICATE
A work environment certificate is proof that you are a responsible employer who constantly works to improve the employees' work environment.
The are several benefits benefits of a certification, and it is not just about the work environment, as you can see in the examples below:
Fewer workplace accidents and work-related health problems.
Reduced sickness absence.
Improved quality thanks to better working methods and proactively identified risks.
Constructive collaboration between employer and employee.
Increased commitment and greater well-being among the staff.
To appear as a good employer and thereby easier to compete and attract the best workforce
Strengthened brand to customers as well as owners, employees and other stakeholders.

ISO 45001 helps you discover and prevent risks in the business, reduce your costs for, for example, sick leave and create a healthier working environment. This in turn strengthens both competitiveness and your brand.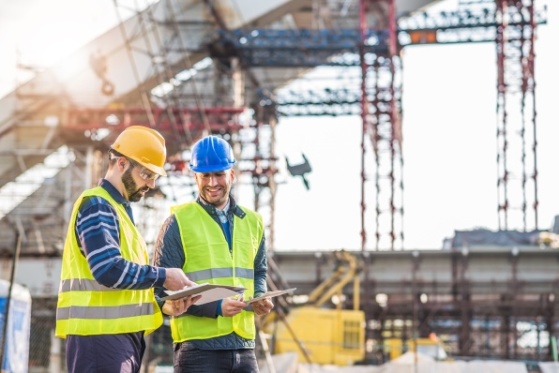 WORKing ENVIRONMENT CERTIFICATION ACCORDING TO
ISO 45001 - how to
A work environment policy or work environment plan is a good start, but in order to meet the requirements of ISO 45001 you need a complete management system with goals, policies and procedures for how you should continue to improve your work environment. Our auditors help you to review your work with your working environment. When the audit is approved, we as independent certification body issue your work environment certificate. We then help you with annual development audits and every three years a re-certification is made.
ISO 45001 - the ISO STANDARD FOR WORKing ENVIRONMENT
The standard was published mid March 2018. ISO 45001 has a similar structure as ISO 9001 for quality and ISO 14001 for the environment.
ISO 45001: 2018 replaces OHSAS 18001 that expired as a valid standard in Sep 2021.
do you need HELP WITH CERTIFICATION ACCORDING TO
ISO 45001?
Do you want to certify your company according to ISO 45001?
We can support you with the information you need and a price quote
- request a quote.
Do you need to renew your existing work environment certificate? We can take over your certificate and assist you anytime in the certification cycle.
Contact us for more information.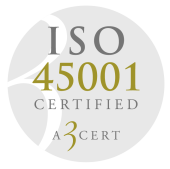 ISO 45001– standard för working environment
ISO has developed a standard for working environment - ISO 45001: 2018. This standard was published March 15, 2018. ISO 45001 replaces OHSAS
18001 that expired in Sep 2021.
Work environment certification in accordance with ISO 45001 can be combined with certification of other management systems, such as quality certification (ISO 9001) and environmental certification (ISO 14001).
We are happy to tell you more about how you can benefit by combining these standards to also improve your work environment.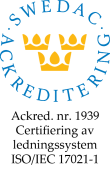 Scope of our accreditation
You can read via SWEDAC's accreditation register which type of industries we are currently accredited for.
Do not hesitate to contact us even if your type of business is not in the list, as we we often take decisions to expand our accreditation with additional industry areas.